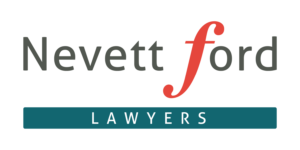 Nevett Ford Lawyers selects and deploys Caseflow Acumen Case Management solution for Off-The-Plan Developments.
Melbourne firm Nevett Ford Lawyers are experiencing substantial benefits from their recent decision to implement Caseflow Acumen to address the needs of their Property department.
Initially looking at their "Off-The-Plan" work, the success of the project has opened opportunities within other areas of the practice.
This success was achieved in record time. From initial discussions, which included a review of existing technology and alternative options, to the evaluation and selection of Caseflow was achieved in 2-3 weeks. More importantly, the time from contract signing to "Go Live" was only a further 3 weeks.
Brooke Robinson Practice Manager of Nevett Ford remarked that "We have a Practice Management Solution which incorporates Case Management functionality but we hadn't been able to get it working the way we wanted to for our Off-The-Plan property group". Brooke went on to say "We had a very tight timeframe and the Caseflow Team were able to achieve our requirements and deadline while still maintaining the integration and investment with our existing technology. We already have plans underway to expand the deployment of the product so as to deliver its benefits to other parts of the firm." "We can recommend to other firms that, given the pressures that the legal industry is facing in being more productive to maintain profitability, Caseflow Acumen should definitely be an essential consideration in their technology budget"About Caseflow Caseflow's modular solution – the Acumen Suite – delivers case and matter management technology that brings together documents, data, and workflow.
The solution helps legal teams to:
Work smarter with streamlined processes;
Work more efficiently by embedding a quality assurance and risk management approach into file handling;
Work profitably with a flexible framework to manage traditional, fixed fee or alternate fee arrangement work.
Caseflow Acumen, which has been purpose built to meet the specific needs of the legal market, allows law firms design an action list of tasks and documents along with the data they need to assemble documents and manage key stages. The system integrates seamlessly with the firms existing systems to provide maximum flexibility and optimum efficiency and profitability without the need to replace legacy systems.
Caseflow Pty Ltd are long standing experts in the design and implementation of legal case and matter management systems with more than two decades of experience of specialist law firm experience. The Acumen Suite combines your expertise & our technology to improve the productivity, profitability and efficiency of your practice.